Among the many benefits of online yoga, besides helping you to maintain a good immune system and a steady mind in these difficult times, is that you are developing your own yoga practice, devoting some little space in your home where you will meet up with yourself, your own essence, on the mat, in your lovely home. The weekly programs consist of active, energising but also releasing, relaxing yoga classes, where we use the breath to explore our inner self and connect to our inner energy, Prana.
Why online Yoga classes?
Practicing yoga online means you can practice anytime, as often as you would like. Online classes are always available to you, even if you can't practice at the time of the livestream, they are recorded, you can take them anytime you like.
With the online yogaclasses of Wheel of yoga, I both have the comfort of my own home and the motivating and clear yoga-instructions of Cristina at the same time. It's nice that the online classes are live, so Cristina can actually see you a bit and direct you in the poses.

I always enjoy the yogaclasses with Cristina. She has a warm personality and gives clear instructions and directions in a vivid way, so you will be totally involved in the practice of the asanas. The studio is a nice place with a warm atmosphere. I feel invigorated and brighter after the classes.

Pauline
Practicing yoga online, means that you are there for you, focused 100% on your own practice with no distractions or opportunity to 'compare 'or 'compete'. Practicing yoga at home makes it solely about your yoga journey and no one else's – which can create a much more intimate, meaningful and impactful experience.
How does online Yoga during COVID-19 work?
Yoga can be a powerful tool to deal with the lockdown's uncertainty and isolation, as well as to maintain physical well-being. During lockdown and in its aftermath, an increasing number of practitioners have turned to online yoga classes to regain balance and strength. A lot of people took to their mats during lockdown to calm their minds and lift their spirits. Yoga brings a connection and good vibes, whether in a studio or through a computer screen. 
For some, an online class has been an easier first step on the yoga path than entering a real studio, some others still prefer the safety & comfort of their own "nest" for practicing yoga, and this is perfectly understandable given the current circumstances. As long as yoga is regularly practiced and with no expectations, new balances will always be available. Being in a position to chose whether to join a group yoga class or taking part to online yoga classes from home gives peace of mind and allows people to explore their inner energy source.
Why is it important to keep doing Yoga even though you're not able to go to the studio?
Exercise is especially important now because it reduces stress, prevents weight gain, boosts the immune system and improves sleep. The long time spent in a sitting position, remotely working from home heavily affects the energy flows in the body. Chest and shoulders dropping, the length in the spine is reduced and so the space for breathing, the "solar plexus" collapsed, the top of lungs do not get used when breathing whilst sitting for too long. As a consequence the brain gets affected by lack of oxygen and lack of concentration, depression, stress, anxious emotions, fears, lack of grounding and stability manifest in the mind.
The good points about online yoga?
The regular practice of online yoga helps you to build up your own grounding, your own experience of stability in your body & mind. As you learn new sequences and actions in your body, you find & keep refining your "own" centre, your "home" inside yourself, from where newer balances can be found, in such a way your level of self confidence increases.
The comfort and safety of your home, your complete autonomy over your own environment allow for the best relaxation experience. Light incense, burn candles, create your own soothing nest for yoga, make a yoga haven in your home, you can also roll your yoga mat out in any room in your house looking for the right spot the first couple of classes, but finally choose your own yoga space, place your mat and enjoy your practice.
Remember that Time and "Space Do Not Exist" when we practice Yoga and it is very special to make this experience in your own home.
No need to interrupt your experience after class having to commute to and from the studio back home or to rush to work.
Best prices: Online programs are much cheaper than Live programs
Online yoga creates a very personalised practice where the teacher is offering you something very special – their undivided time and attention.
It's just you on your mat and your teacher on the screen. It's like a private yoga session in the comfort of your own home.
What do you need to practice Online yoga?
It's time to roll out your mat and discover your yoga practice in your own nest, be creative, use your furniture, you don't need fancy props, get a chair, some blankets, some cushions and a belt. Your wall can be your best support partner as you practice yoga in your "home studio". Join us and have fun with us.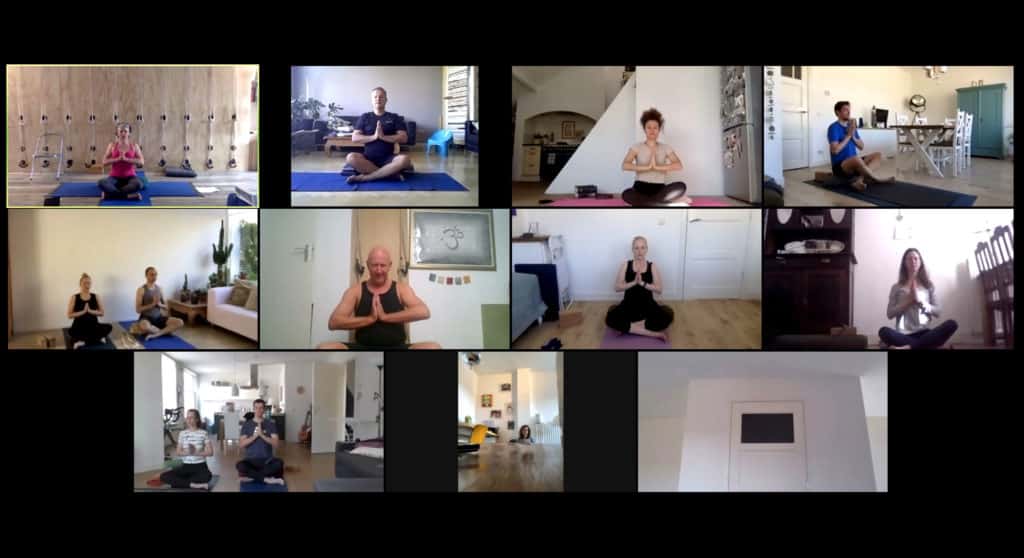 The less good points about online yoga compared to in the studio?
The required use of technology might be an obstacle although you practice yoga to learn and improve your patience.

There is absolutely no substitute for a live studio teacher improving one's alignment and technique. Personalised attention is what can take a yoga practice to the next level and really generate the desired results. Yoga teachers don't just know yoga, they're trained to teach yoga, which includes spotting poor postures and applying techniques, variations for your various conditions, recognising your state of mind and "assisting" you in the stress release process of your body and mind.

Additionally in a live class, you feel the energy of other participants, also engaged in their own exploring experience as they practice yoga, committed into their inner journey, willing to share their good and less good moments in their practice, together, although nowadays, with "social distancing".

Chanting the Om and the invocation too Patanjali is also not the same experience at home as in the studio together. Although with online classes we can improve the listening to our own inner voice, without the hesitation that we might experience to express it in a group class.

Chatting with other students before and after yoga class is fun. Some wonderful, lifelong friendships begin in class. Such an occurrence would not happen in an at-home practice environment. Clearly the current Covid situation does not allow for such closeness anymore but we can open the doors at the studio and spread ourselves out to stay socially connected and maintain a sense of "brotherhood" in these difficult times.
If online yoga classes and instruction are very interesting- the best way to do it is as a supplement to regular weekly live sessions. In any form you can do maintain your yoga practice and take care of your own health and wellbeing.
Live Yoga classes
Why is Live better than recorded?
Watching recorded yoga videos can result in establishing poor habits which won't be corrected. However, in a live class, bad habits are corrected, and personalised support equipment and adaptations can be provided to help any student into their practice.
Cristina's sessions give me lots of energy and help me to keep in balance. Cristina has a great knowledge about the body and it's function on different levels. She takes care about the individual student and is a great teacher.

Even after an exhausting day at work I enjoy the energising sessions at the wheel of yoga.

Jan
The knowledgeable eye to eye contact of the teacher to the student can address bodily corrections in a more efficient and direct manner during a Live class at the studio.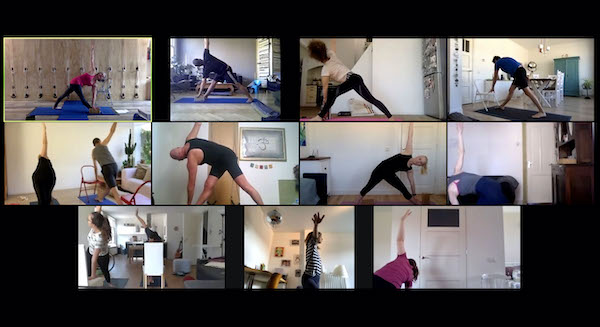 What can you expect from live yoga classes?
The multiplied energy achieved when more students share the same physical space at the studio, with their yoga practice, enhances general empathy and promotes tolerance and final social wellbeing. A lightness, soothing feeling of humanhood is often experienced at the end of a group Live Yoga class.
Do you work towards something in live classes?
A Live Yoga class is longer 90 mins and there is a longer time to warm up and to cool down.The use of the studio props, the rope wall, the chairs, belts and various support items are used as vehicles to help us engaging in our inner journey, the yoga practice.
There is often a theme in a Live Yoga class, although every week, the Live program is structured to study and practice different sequences, taking the body to work in the different areas so that by the end of the month, we have had the chance to visit our bodies in places that we did not even know could exist.
Various themes are often subject of yoga classes: from anatomical "actions" learned in the different yoga postures/asanas, to philosophical deepening of the meaning of Yoga as not just in postures practices but application of practice to personal emotional, spiritual growth.
Is there more personal guidance in a Live Yoga class?
Personal guidance is the "core" of Live Yoga programs. In the cozy atmosphere of the studio small groups of students create the perfect environment for the Yoga experience. Here you learn about yourself in your practice in relation to others who just like you, have their own issues, being that tiredness, depression, stress, fears and many other emotions. Your own journey onto the yoga mat in the studio, with Live yoga programs, is accompanied by the caring attention of the skilled professional teachers. You feel cared for and continuously encouraged to progress on your own journey into your body and soul.
How to start Yoga at home for beginners?
Start a free trial of Online Yoga (4 classes in a week) and make your personal experience, learn how Yoga can tame your mind, boost up your immune system and make you to enjoy your body and appreciate your mind as it regains focus, as it learns new actions, just like a child learns to walk, by loosing balance first. Come and join us Online with Yoga, in the safety of your own environment.
Who are you and why should they do this course with you?
We are a very passionate team of Iyengar Yoga teachers who after having completed their yoga education programs have progressed studying and practicing the different aspects of Yoga. Philosophy, Psychology, Devotion, Chanting, sharing their parallel yoga practices and the pains and joys, the emotional turmoils of life in the  safe and lovely space of the wheel of yoga studio, is what we have been building in the last years and this you can feel when you enter our studio in de Pijp in Amsterdam.
Personally, and, as a team, we are engaged and committed on the path of Yoga and ready to assist whoever is, at least, curious, to find out what Yoga really is, besides the wonderful yoga postures/asanas that appear on magazines front pages. We have different personalities and temperaments but the aim we share is one, helping you to gain and regain your centre and to reach new balances so to stay healthy and content of who you are. Here and Now. 
Final words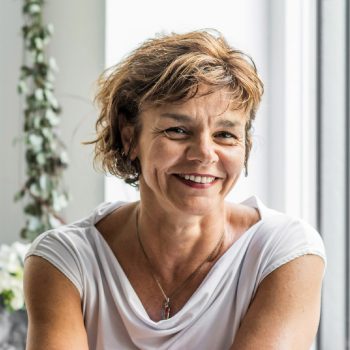 Either you practice Online or Live Yoga, you will be doing the best investment you can on yourself. You will learn new tools to keep you from depression, stress, burnout, frustrations, fears.
We are here for you to always remind you that:
You can't stop the waves but you can learn how to surf them
Come and learn how to surf through life especially in these difficult times. You are fully equipped for this adventure and we are there Online or Live to help.
As additional support to your personal growth, in some classes, you will get advise on how to keep boosting your immune system. Not only with Yoga specific sequences, but also with little nutrition tips and lifestyle adjustments, breathing techniques, according to your personal condition and in relation with the outside circumstances, to help you to remain safe & centred.
Come and join our Online and/or Live Yoga Programs. Live Yoga Programs allows you to follow Online if you can't make it to the Live class. You can always switch and book an Online class instead, with your Live Yoga subscription.
Not convinced? Read our reviews!